12' x 6" x 31" Racing Stand Up Paddle Board - For Adults and Kids less than 200 Pounds, Max 340 pounds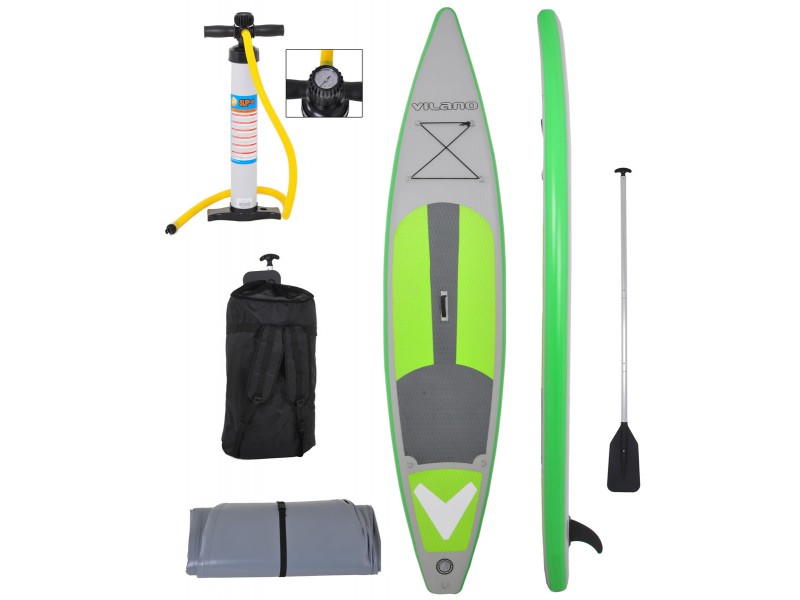 Location: Sunriver, Oregon
Product code: 12SUPRACE
ONLINE BOOKING DISABLED - CALL FOR AVAIBILITY/RESERVATIONS AT OUR 6,000 Sq Ft FACILITY - 541-647-4433 - 12' x 6" x 31" Racing Stand Up Paddle Boards are for speed and maneuverability on any of many local lakes and the Deschutes River. Paddle down with current, or paddle up river. Leash provided on request. Bow open storage area. Single fin system for extra speed and low drag. May add seat at no charge on request. Recommended maximum beginner weight 200 Pounds. Maximum capacity 340 pounds with the Racing Board.
The Vilano 12' (6" Thick) Inflatable Touring / Race SUP Stand Up Paddle Board is an awesome board for exploring the Deschutes River or one of the many local lakes. Made from high grade PVC and featuring Korean drop stitch construction, this durable SUP board is rigid like a hard board, yet easier to transport to the next water voyage.
The Vilano Touring SUP board is stable and has a comfortable, anti-slip deck pad. The large single fin tracks well in all types of water conditions, and the V shaped nose is capable of slicing through light chop with ease. Carry cargo on board with the 7 D-rings and bungee cord. The max weight of the board is 340 lbs. and when inflated it measures 12 ft long x 31in. Wide x 6 in. thick. Deflate the board, roll it up with the handy strap (when rolled the board measures a compact 1' diameter x 36" long). Both recreational racers and all day adventurers alike will love the Vilano Touring / Race SUP Board. Fold the board and collapse its adjustable paddle, and put everything in the handy carry bag, or put in the trunk to return it to ToyHouse.
All Rentals Are For Up To 24 Hours:
Pick up as early as 9am - Return by 5pm same day or 9am the following day. Multi-day rental rates available on request.

Want to access the Deschutes River?

River access rules changed dramatically on July 1st of 2016 - so give us a call for an update or Read about your river access options to match your situation:

Have SHARC Recreation Plus Passes or an owner's SROA pass?

Your SHARC passes also provide you with access to the new SROA Boat Launch to park your car and exit/enter the river at No Charge (Paper Day Passes Not Accepted) – Owners and Renters must be in possession of a current SROA Recreation Plus Pass (or SROA Owner's Card) to open the gate, enter the water and exit the water from the marina. REMEMBER TO BRING YOUR PASSES WITH YOU TO TOYHOUSE - DON'T LEAVE THEM IN THE CAR OR AT YOUR HOUSE

Please deflate all inflatables and securely tie down hard body items and return them to ToyHouse by 5pm or 9am the following morning. Remember all the vests, paddles squirt guns, etc.

Leave one car at the marina and bring the whole tribe to ToyHouse – we'll get everyone vested and shuttle your rental equipment to Harper Bridge (or other selected put-in) for your float/paddle. ToyHouse can not pick up equipment at the SROA Boat Launch. If you can't transport hard bodies equipment, rent inflatables) Harper to the SROA Marina is a really great 1.5 hour paddle (2.5-3 hour float). Come directly to ToyHouse and we load all your equipment for the put-in trip.

*****
No SHARC Passes? Only have one car? No tow vehicle? No Worries! - Give us a call and we'll figure out the best plan for your group's desired trip length.

Floating Down The Deschutes River? We have self-directed Floats and Paddles varying from 30 minutes, 45 minutes, 2 1/2 hours, 5 hours, 8 hours & longer. Our staff would be happy to discuss your paddle and floating options.

Don't forget the camera – we have a free waterproof still/video camera – just buy the 8GB SD card for $20 to take the SD card & free adapter home with you.

Taking a Day at The Lake? Elk Lake Resort has music and food service every Saturday Night through the Summer. So you can spend the day at the lake and end your great day with music and dinner overlooking the lake. We have all sorts of water play toys for a fun day at one of the many lakes nearby. There are floating islands, tubes, water toys, kayaks, canoes, SUPs and so much more to make your day at the lake a memorable one. 12V pumps available for on-site inflation of inflatable toys.

Cultus Lake is just 20 minutes from Sunriver - for great days floating, paddling, kayaks, SUPS and more around the lake - or bring a jet ski with you too!


We do this every day - so give us a call and we can figure out what's best for you and your group - from 1 to 100 - we've got you covered!